Treating Psoriasis with Marine Algae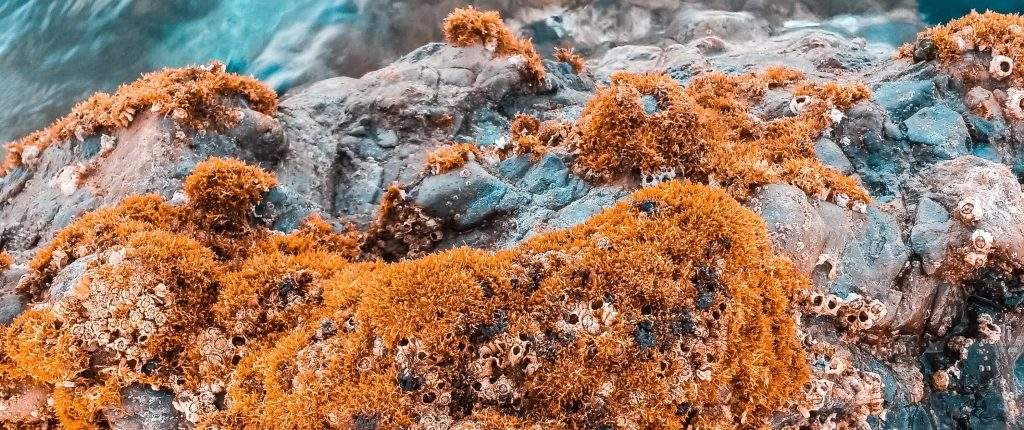 P
soriasis is an itchy, painful skin condition that can trouble sufferers with seemingly sporadic – and seemingly uncontrollable – outbreaks. But recent research sheds light on an eco-friendly ingredient for treating psoriasis: marine algae, the powerhouse organism simply packed with beneficial vitamins, minerals, and fatty acids that help soothe the skin.
A common skin condition
Psoriasis is a genetic immune system related disease that causes scaly, flaky, peeling, or raised patches on the skin. Psoriasis patches are often red, but can also be white or silvery in color. Outbreaks usually appear on the scalp, lower back, elbows, knees, feet, or palms of the hands, but can also occur on the face. Affected areas typically itch, burn, and sting, and can cause discomfort, pain, and embarrassment. 
Currently, the National Psoriasis Foundation defines five types of psoriasis: plaque, guttate, inverse, pustular and erythrodermic. The most common form of psoriasis is plaque psoriasis, which appear as red, raised patches, and comprises almost 80% of all cases. Globally, experts estimate psoriasis afflicts over 2-3% of the global population and more than 8 million Americans. 
While the exact causes of psoriasis vary from person to person, the skin condition is typically linked to inflammation. 
How marine algae rises to the challenge
Red marine algae has a multitude of natural properties that make it especially effective for treating current psoriasis outbreaks. But one of the best reasons to incorporate red marine algae into a psoriasis skincare formulation? Omega-3 fatty acids. 
Many individuals with psoriasis have a deficiency of Omega-3 fatty acids, which is typically linked to inflammation within the body – and thus psoriasis outbreaks. But, luckily for consumers, marine algae's exceptionally high Omega-3 content could help to reduce painful psoriasis symptoms when topically applied to the skin.
"Omega-3s help psoriasis symptoms by reducing inflammation. When they enter the bloodstream, they lubricate the cells of the body. This lubrication can have a healing effect on cells that are particularly in need of it, such as brain cells and cells that make up your joints. This lubrication can also reduce inflammation," explains Healthline.
Mega-doses of vitamin D
Additionally, marine algae is also excellent for treating psoriasis outbreaks due to the organism's hefty vitamin content. Packed with a plethora of skin-beneficial vitamins, red marine algae's naturally high vitamin D content in particular makes this tiny, ancient organism an exceptionally powerful ingredient to incorporate into psoriasis treatment formulations.
"Topical oils and ointments for psoriasis containing vitamin D can also help treat flares. Vitamin D can slow the growth of new cells, so vitamin D oil applied directly to the flare can help thin the plaque," according to Healthline. "…Topical oils may be more effective in treating flares that already exist."
Red algae is packed with a plethora of skin-beneficial vitamins
Vitamin D is a key ingredient in several prescription psoriasis medications, but for consumers seeking a fast over-the-counter solution, marine algae skincare products could provide quick, effective relief to an outbreak.
In the celebrity spotlight
Psoriasis recently headlines, when Kim Kardashian West, the reality television star and beauty mogul, revealed a new psoriasis treatment she's found especially effective.
"Psoriasis has impacted my life since I was first diagnosed in 2010. After having had it for over seven years, I feel like I've accepted it, but there are still times when I can feel insecure about it," Kardashian West recently shared on social media, according to Teen Vogue. "A newer treatment that I've started is using seaweed-based beauty products. I use it to treat spots that are especially irritating, red, or flakey."
While the star has battled her psoriasis for years with on-and-off success, it's likely Kim Kardashian West's oceanic skincare solution will have consumers scrambling to try more skincare and personal care products featuring marine algae and seaweed.
From under the sea into consumer's skincare
So, while psoriasis is a chronic skin condition that can never be fully cured, formulators can provide consumers with soothing relief in the form of naturally nourishing red marine algae skincare products made with quality ingredients.