Formulating Sheet Masks with Multitasking Marine Algae

T
he global facial mask market is simply booming, as "sheet face masks have gained popularity among the urban population of nearly every country in the world," according
to new research
. Experts predict the growth to continue, projecting the
global sheet face masks market
to reach $268.2 million USD by 2026, at a CAGR of 8.7%.
For formulators looking to truly seize on the popularity of the sheet mask, marine algae is the perfect natural claims ingredient to incorporate into a plethora of masks. This multi-purpose, efficacious ingredient can be used for the most pressing consumer needs, including anti-aging, acne, moisturization, and trendy detox sheet masks.
Why are sheet masks so popular?
Sheet masks are face-shaped fabrics that soak in nutrition-packed serums and are placed on the face to deliver skincare benefits. The sheet is typically made of soft, pliable materials like fiber, paper, or gel, while the serum contains a number of active or natural ingredients, all designed to target a skincare issue or need. Consumers love sheet masks for their convenience, portability, and most importantly for their efficacy.
"Think of a sheet mask as saturating your skin in a temporary but effective moisturizing sleeping bag of skin care, where good stuff gets in but nothing gets out," explained influential beauty publication The Cut.
Sheet masks are especially effective for quick results, as the sheets act as a physical barrier that seals active and natural ingredients, like marine algae, against the skin. For ensuring intensive penetration of expensive hero ingredients, deep within the skin cells, sheets masks are a uniquely effective skincare product.
Multitasking marine algae
Marine algae is naturally rich in vitamin C and supports collagen production, which helpts to promote the appearance of younger, plumper looking skin. Additionally, marine algae is a powerful protector for the skin against free radical damage, thanks to the natural occurence of metabolites in marine algae.
"Marine resources have been recognized for their biologically active substances. Among these, marine algae are rich-sources of metabolites, which can be used to fight against oxidative stress and hence skin aging. These metabolites include, among others, mycosporine-like amino acids (MAAs), polysaccharides, sulphated polysaccharides, glucosyl glycerols, pigments, and polyphenols." – "Marine algae as attractive source to skin care," Free Radical Journal
For anti-wrinkle, anti-aging sheet mask formulations, marine algae is a must-include ingredient.
Anti-aging masks
Marine algae is an especially popular – and effective – ingredient to add into sheet mask serum formulations, thanks to the multifunctionality of this ingredient. While marine algae is excellent perfect for a wide variety of sheet mask formulations, this tiny organism from the depths of the ocean excels most in four key sheet mask categories: anti-aging, acne control, hydration, and trending detox masks.
Acne sheet masks
Acne, oil control, and blemish-fighting sheet masks are also improved with the addition of marine algae. Researchers have discovered that six different fatty acids all help to combat acne: omega-3, omega-6, eicosapentaenoic acid (EPA) and dihomo-gamma-linolenic acid (DGLA).
Marine algae contains these omega fatty acids, plus omega-9 fatty acids, all of which naturally work to control oil, knock out current blemishes, and prevent future breakouts.
Hydrating and moisture masks
For hydrating and moisturizing masks, marine algae is one of the top natural claims ingredients to incorporate. The cell structure of red algae cell makes it a star hydrator, thanks to its long coils, which become wrapped around one another and trap pockets of moisture within the algae.
When marine algae is applied topically to the face, like in sheet masks, the naturally trapped moisture within the algae coils intensively penetrates the skin, for a doubly hydrating boost. It's no wonder Women's Health recently wrote that marine algae truly supplies skin with "a superior dose of hydration."
Trendy detox masks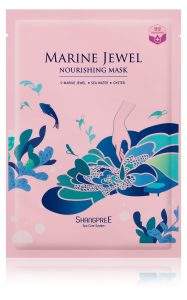 Finally, for detoxing and deep cleansing sheet masks, marine algae can't be beat. Marine algae has a high iodine content, which is an essential element to both detoxifying and cleansing the skin.
"Marine algae stimulates blood flow in the skin enough to make you glow," said dermatologist Jeannette Graf, in an interview on detox skincare ingredients in Allure. "Algae is a good antioxidant, and it's rich in detoxifying minerals."
For consumers on the hunt for trending detox products like sheet masks, marine algae is perfect for clearing out dead skin cells, sweeping away debris, and removing heavy metals from the pores.
Popular marine algae sheet masks
Interested in marine algae-based sheet masks? Check out these trending products: