Coast Southwest Sponsors California You Be The Chemist!®
Think back to when you were a kid. Which would make you more interested in chemistry? Memorizing the Periodic Table, building a baking soda volcano, or creating elephant's toothpaste?
The Chemical Educational Foundation's (CEF) You Be The Chemist!® (YBTC) program enhances K-8 science education by introducing the science of chemistry as it relates to our everyday lives and the study of other sciences.
YBTC has three parts.
YBTC Essential Elements assists K-8 educators in teaching chemistry concepts through hands-on learning and connecting those concepts to students' everyday lives. Contact the CEF staff to learn more about the 5E learning cycle format and how to bring an Essential Elements workshop to your school.
The YBTC Activity Guides: Lesson Plans for Making Chemistry Fun offer a variety of exciting science lesson plans, enabling educators to bring hands-on learning to students, inside and outside of the classroom. The Activity Guides are divided according to grade level and contain educator-reviewed lesson plans, activity sheets, and a resource guide filled with safety information, tips for non-chemistry teachers, and much more.View a sample lesson plan.
The YBTC Challenge is a fun and educational competition that brings grade 5-8 students, educators, parents, industry, and other members of the community together to shine the spotlight on the science of chemistry.The Challenge, which follows a question and answer format similar to a spelling bee, is organized on local, state, and national levels. State championships are held in states with more than one local competition. State champions from across the country compete for the national title.
The 2018 You Be The Chemist California State Challenge is hosted by Coast Southwest at the Discovery Cube Orange County on April 29. Finalists from the local California challenges will participate.
The winners of that challenge will participate in the 2018 National YBTC Challenge on June 18 in Washington, D.C..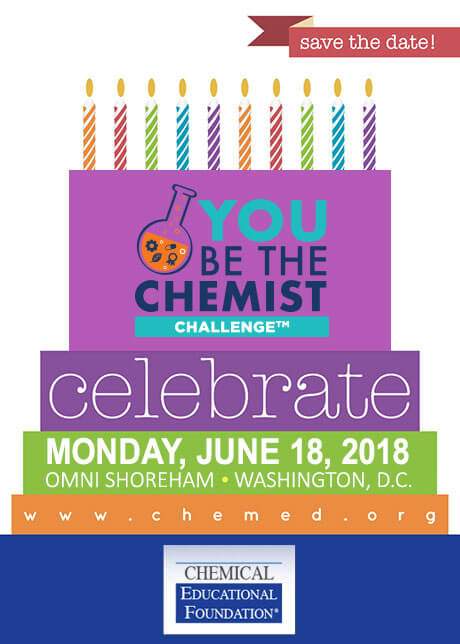 Some useful links for teachers, parents, and kids: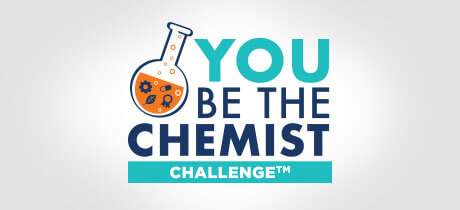 Educators and parents, learn more about the You Be The Chemist!® National Program.
The Chemical Education Foundation's YBTC program enhances K-8 science education by introducing the central role of chemistry in all the sciences and in our everyday lives. Read more >
The 2018 You Be The Chemist® California State Challenge – April 29, 2018.
On this exciting day, the winners of California Local Challenges will meet at the Discovery Cube Orange County to compete for a trip to the national You Be The Chemist!® Challenge to be held on June 18 in Washington, D.C.. To learn how your school or organization can participate, click here >
Read about Other Kids in YBTC.
The 2018 competition brought together hundreds of students, chemical industry representatives, family members, and educators in a celebration of chemistry.
click here >
Watch the video from the previous You Be The Chemist!® Event
It's so important that the private sector, especially industries that rely so heavily on science, help provide educators and students with additional STEM education resources. Coast Southwest is one such company that is leading the way in science outreach through its support of the Chemical Educational Foundation (CEF) and our You Be The Chemist (YBTC) programs to expand science education initiatives in California and nationwide. The Chemical Education Foundation extends a big THANK YOU to the employees of companies like Coast Southwest who roll up their sleeves and get involved to help implement the YBTC programs in the communities in which they live and do business.
Most middle schoolers aren't certain of what chemistry is in the real world. I love seeing the light bulb go off for the first time. When I'm talking with a new group of kids, I ask them how many have brushed their teeth, taken a shower, or swallowed a vitamin. Once they start realizing that everything around them is chemistry, they become excited because they see its meaning in their daily lives.

This program costs each participating school nothing, we require only an eager spirit and an open mind. The Chemical Educational Foundation provides activity guides and other teaching materials. The teachers pick out eight laboratory experiments, and we purchase the supplies. The kids love working as teams in the lab. They see that chemistry is fun because they get to experiment hands-on and discuss together what they observe and the reactions they create. Like all of us, they learn better that way.

Coast Southwest is going into our fourth year of sponsoring the You Be The Chemist!® program in California and nationally. The teachers and students are enthusiastic and dedicated. We're involved financially and at the classroom level because we believe in this grassroots effort to encourage more scientists and problem solvers in our community and for our industry.